Sizzle Your Summer Reading!
Try something NEW by these fabulous authors!
Jaded by Anya Bast

One woman who's sworn never to love again.
Two men who can't help but desire her.
And the magic and passion that binds them together...

Haunted by a traumatic attack when she was eighteen, Lilya Orensdaughter has become a courtesan in the Temple of Dreams, determined to never again lose control. But she will do anything for Byron Andropov, the man who nursed her back to health all those years ago--and who now wants her to help his friend Alek Chaikoveii come to terms with the powerful magick he possesses.

In Alek, Lilya finds a kindred spirit. The attraction between them is immediate, and soon Lilya surrenders to nights of unimaginable ecstasy. But she can't forget Byron, who's concealed his feelings for Lilya because he believed she would never love again. As tensions escalate between the two men who are vying for Lilya's heart, Lilya finds herself torn between her desire for the man who saved her, and the man whose soul resembles her own--only to discover that in the world of unrestrained passion there are no boundaries. If only you're willing to give up control...

Read Chapter One | Order Print at Amazon | B&N | Order eBook formats: Kindle | Nook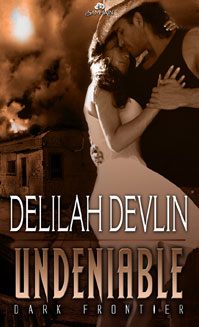 Undeniable by Delilah Devlin

The best defense is no match for desire this hot...

Kate McKinnon's Sanctuary is an island of refuge in a western frontier shrouded in post-apocalyptic chaos. Her only escape from her crushing responsibilities is occasional radio contact with other pockets of survivors. Especially one man whose deep, raspy voice cuts through her exhaustion, straight to her heart. A man whose face she has only imagined.

When she and her ranch hands are surrounded by renegades, she doesn't recognize the leader of the militaristic band that rescues them, but knows that voice.

Ty Bennett is already half in love with the human woman whose voice haunts his dreams. His impulsive offer to add muscle to the Sanctuary's defenses is dangerous to them both. Helping her may redeem some of his sins, but proximity only increases his hunger to possess her--body, soul...and blood.

Without hesitation, she welcomes Ty and his men into the Sanctuary...only to discover the reason why they only ride at night. Yet the survival instinct that screams at her to drive them off is no match for Ty's seductive powers. Or the need for protection from the threat that howls at Sanctuary's gates. succumb to the carnal pleasures only a vampire can provide.
This title has been previously published.

Product Warnings: Expect a dark, violent world where a vampire driven by uncontrollable lusts strikes a bargain with a strong woman willing to succumb to the carnal pleasures only a vampire can provide.

Read an excerpt | Order eBook at Amazon Kindle | Barnes & Noble Nook
Dangerous Pleasure by Lora Leigh (Available July 5, 2011)

Abram Mustafa faces the test of his life and his heart when his terrorist father kidnaps Paige Galbraithe, the one woman who has always been able to touch Abram's soul. With Paige's life now in danger, Abram knows that his plans for escape from the only home he has ever known have suddenly become more imperative than ever.

Paige has always wondered if the dark, cool and mysterious Abram el Hamid Mustafa is hiding a wicked side...a wicked side that will allow her to explore the kind of pleasure she has dreamed of. But when she is kidnapped by his father, she finds that she must trust Abram with more than her fantasies. Paige must trust him with her life...and her heart.

Secret, dangerous desires will bind Abram and Paige together as the forces surrounding them try to tear them apart.

Order Print at Amazon | B&N | Order eBook formats Kindle | Nook
Colters' Lady by Maya Banks

Can their love give her the strength to overcome the tragedy in her past?

When police officer Seth Colter sees the delicate, shabbily dressed beauty in line at the soup kitchen where he's serving, he's gut shot over the idea of her being on the streets cold and alone. More baffling is the dark, possessive instinct that tells him she belongs to him.

For Lily Weston, home is a secluded nook in a back alley--until Seth offers her a place to stay. She's wary of his offer, but even one night out of the cold is too much temptation to resist.

Seth is convinced Lily is his. The problem is, when his brothers lay eyes on her, the same primitive instinct comes roaring to the surface. The Colters never imagined they'd follow the unconventional path of their fathers, but they can't ignore their mutual need to offer Lily their protection--and their love. But before Lily and the brothers can forge a future together, they must heal the deep wounds of her past.

Read an excerpt | Order Print at Amazon | B&N Order eBook format at Nook | Kindle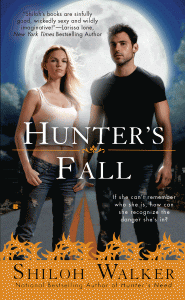 Hunter's Fall by Shiloh Walker

If she can't remember who she is, how can she recognize the danger she's in?

UNKNOWN PAST
Something strange is happening to Nessa. Ever since she survived a near-death experience she's not exactly who she used to be--and enjoying every minute of it. Then she's called upon to go to battle against darkness. If only she could remember why.

UNEXPECTED LOVER
Dominic is having his own problems with memory, sanity, and hallucinations. Sent to Excelsior, the covert Hunter training facility, he senses a female presence that seems so hauntingly familiar. That's because he and Nessa share a forgotten past.

UNSEEN EVIL
As Nessa and Dominic regain their memories, their strange mission against evil becomes clearer. And all the more dangerous because whether they should trust each other is the still the greatest unknown of all.

Read an excerpt | Order Print at Amazon | B&N | Order eBook formats Kindle | Nook